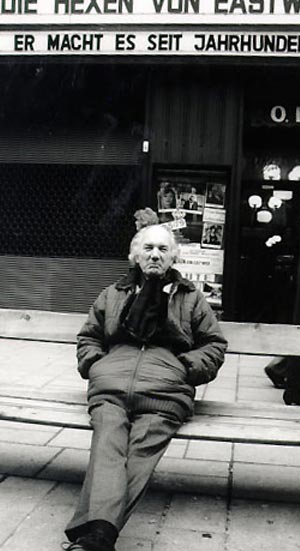 Photo ©
Sepp Dreissinger
1988
German actress Ilse Ritter grew up near Rinteln, a tiny village in the north of Germany, with two sisters and a brother and the 30 children of the children's home her parents ran, and was only 15 when she first visited the College for Music and Theater in Hannover. She has played under every director of note in the postwar German theater, including Hans Bauer, Hans Neuenfels, Claus Peymann, Klaus Michael Grüber, Luc Bondy, Peter Stein, Peter Zadek, Robert Wilson, Wilfried Minks, Jossi Wieler, Christoph Marthaler, Matthias Hartmann.

For her and two colleagues Thomas Bernhard wrote the play Ritter, Dene, Voss which is about the Worringer sisters -- actresses in Vienna, the younger ''Ritter,' the older 'Dene' –- preparing for their brother's return from the Steinhof mental institution in Vienna, where he has been a patient for some time. Dene is the driving force behind an attempt at reintegrating him into family life, while Ritter is the skeptical one, and Ludwig, who first appears in the second scene, makes it clear that he has never planned to stay for good. The play has three scenes which take place before, during, and after lunch.

The following text is based on what Ilse Ritter told me on a walk along the Elbe on an April day in 2003. Ilse Ritter is a quiet person, very natural, unsophisticated, amiable in conversation, never thrusting herself forward. She was quite astonished when getting acquainted with her character in Ritter, Dene, Voss, the 'Ritter,' the younger sister, such an aggressive character, full of malicious remarks, she felt. And so her first thought had been that Thomas Bernhard had mistaken her for Kirsten Dene.
On August 18th of 1986 Thomas Bernhard's play Ritter, Dene, Voss had its premiere at the Salzburg festival and on September 4th of that year it was performed at the Burgtheater in Vienna; it was to be performed every two years for the next ten years, the last time being at the 1996 Prague Theater Festival of the German Language. Ilse Ritter would love to act in it again with the original cast, Kirsten Dene and Gert Voss. It would always make sense, she thinks, whether she were 42 as in 1986 or 62 or 72 or older: the family drama of the two sisters and their brother Ludwig would be likely to be repeated through the years, on and on, and subsequent performances with the same ageing cast would add another level of complexity, an ironic flavor, an intensification of the madness. However, she is happy to hear that in recent years the play has been staged frequently with very different actors playing her role: in Freiburg, Osnabrück, Cologne, the Netherlands and Hungary, as well as in Paris.
The younger sister launching her attacks from behind cigarette smoke and the newspaper is to Ilse Ritter like any other role; and, "Claus Peymann, who directed the play, immediately and very decidedly knocked the slightest idea of vanity out of us. "This is not a play about the actors Ilse Ritter, Kirsten Dene, and Gert Voss: it has allusions to the Wittgenstein family, to Ludwig Wittgenstein, whose first name the brother (the only named character in the play) bears, and Bernhard's friend Paul Wittgenstein, whom he had earlier memorialized in Wittgenstein's Nephew: A Friendship . . . Though, yes of course, the play will always be special, of course: it is after all Thomas Bernhard paying his respects to us three actors, an appreciation, but a wink after all, no more."
Claus Peymann's name, it should be mentioned, is closely connected with Bernhard's theater: he directed most of the premieres starting with Bernhard's theatrical debut, "A Party for Boris" in Hamburg in 1970. Peymann is also the main character in three short dramas, depicting him at decisive stages in his role as new director of the Burgtheater in Vienna, where in 1986 he worked with Ritter, Dene, Voss and Der Theatermacher (Histrionics). In Bochum at the Schauspielhaus Peymann tells his actors of a note he had seen tacked up in Thomas Bernhard's kitchen: "Ritter, Dene, Voss, intelligent actors." The story behind it, Ilse Ritter learns from Claus Peymann and Jürgen Flimm (then director at the theater in Cologne), is that in 1982 Thomas Bernhard and Claus Peymann visited a performance of Am Ziel in Cologne, directed by Luc Bondy; Ilse Ritter plays the role of the almost speechless daughter, Christa Berndl as the mother is full of speech. Thomas Bernhard liked the performance -- and Ilse Ritter in particular -- so much that in a letter to Jürgen Flimm he writes: "Ah, ah Ilse, ah Christa!" A short time later Bernhard is equally enthusiastic when seeing Kirsten Dene and Gert Voss in Heinrich von Kleist's Die Herrmansschlacht directed by Peymann in Bochum. He is inspired to write a play with the curious but appealing title Ritter, Dene, Voss -- which Ilse Ritter associates with "Ritter, Tod und Teufel" (Knight, Death, and the Devil, Albrecht Dürer's 1513 engraving).
Am Ziel was Ilse Ritter's first encounter with a Bernhard play. She had read a couple of his books and done a reading of a group of his poems. His descriptions of the war and the air-raids on Salzburg in Die Ursache, the first part of Gathering Evidence, had touched her in particular, reminded her of her own childhood in the shadow of the war. But the first encounter with a Bernhard play was as the daughter in Am Ziel. The role drove her to tears at times, being pushed around by such an avalanche of speech at rehearsals day in and day out. She quite naturally began to stutter: such an oppressed creature, someone who hardly ever gets the chance to utter a single word, begins to stutter in her meager attempt to be heard, articulate her existence, show she is there. And director Luc Bondy added the clumsiness, the awkwardness in the way she moved: a disharmonious mind mirrored in a disharmonious body, someone who cannot develop, never enjoys life to the full, never runs free. It might be in line with such oppression that even the abilities of the real Ilse Ritter were suppressed by Luc Bondy: the audience never sees the piano-playing daughter in the second scene, set in Katwijk, although it is in fact Ilse Ritter herself, who interprets the Beethoven Bagatelle on the piano.
To the question about the younger sister's enjoyment of life Ilse Ritter answers: there is a kind of desperate effort to rise up against the dominant brother and his return home, made a tyrant by his illness, Ilse Ritter thinks, slipping into the mind of her character. However, as soon as Ludwig is there in person the rebellion is silenced, subordination returns -- a rather feeble rebellion it was, though, worn out through repetition, grown pale because never put into action. In order "to get along" with her character, Ilse Ritter came to the understanding that the younger sister's aggression and malice, so problematical for her at first, is born out of an extreme inner misery. "Aus dir spricht immer nur dein Unglück," (It's always only your misfortune that comes out in your words) Dene says. While Dene, the maternal older sister, is always busy setting the table for the brother's utmost well-being, Ritter -- in her very light and girlish chiffon dress -- is the one mostly sitting apart on a chair by the window or in an armchair against the wall, remembering, mourning her life, following her sister's fussing-about with mockery and contempt. "Ich beobachte immer alles," (I always observe all) the character Ritter says, and: "immer alles heruntergeschluckt/ wie gesagt wird," (always swallowed down everything/ as they say), words the real Ritter could also have said about herself, the self who would always back down more easily than her eloquent sister (a doctor nowadays). She was the quiet one. But self-confidence has grown through her roles as an actress, including the Bernhard.
In the last scene of the play, after lunch, Ludwig starts to take the portrait paintings of their ancestor from the walls and then suddenly wants to see the ones of his sisters but, to his amusement, they are kept in the attic. In the 1986 staging real paintings were used, "very funny pictures, done in the style of well-known Viennese painters, Hundertwasser, Ernst Fuchs and so on; and the Viennese audience recognized the allusions immediately and gave a special applause for those pictures alone; I was surrealistically painted, elongated with flaxen hair limply hanging down from my head, and Kirsten was painted very broad with very long fingers."
In an interview Gert Voss once said that Claus Peymann directed Ritter, Dene, Voss almost in passing, so to speak: there was an atmosphere of departure, Peymann had just left Bochum and was not yet in Vienna -- ? Ilse Ritter does not share that impression. Nothing was done in passing in that production. "Maybe there was a kind of holiday atmosphere, Peymann marvellously living on the hillside in Salzburg, riding his bike to the rehearsal stage, that kind of thing, only three actors, all on the same level, he didn't have to train a whole troop of actors, I can say that. On the contrary, once Kirsten wanted to visit one of those marvellous concerts given at the same time at the Salzburg festival and Claus Peymann was so annoyed that it ended in tears and alcohol for Kirsten. No, he worked as accurately and fastidiously as always . . . Often during rehearsal Thomas Bernhard sat way in the back observing what we did, but during breaks Peymann immediately took him by the hand and out for supper, almost guarding him against us, I felt. Bernhard was a very shy and reserved person." The first time she ever met him, face to face, was at the play's premiere in Vienna (it was his own first time in front of an audience according to Roland Koberg in his biography of Claus Peymann) and Ilse Ritter could finally say to him, "This is also our own premiere," and "Ah, my author," and Thomas Bernhard could say: "My actress," and they embraced.